Once upon a time … I knew who I was.
I could have told you, even. Pretty easily.
I defined myself as a child of God, a wife, a mother, a Nini, a friend, a writer of sorts, an introvert, (a bit) stubborn, a fighter, loved by many, kinda smart, a list-maker, sometimes wise, usually discerning.
These things are still true of me, I think.
But also, I would have told you I was:
… a manager
… logical & rational
… organized
… a perfectionist
… strong
… not beautiful
… not a cry-er
And I was living in this la-la-land:
"I got this."
"Let me help you fix this."
Pretty much none of that is true anymore. For sure I don't live in that particular la-la land anymore.
Here's what I would never have told you that I was:
… the managed one
… the emotional and sometime irrational one
… the messy unorganized one
… the I-don't-care one
… the broken one
… the lovely one
… a cry-a-lot-er [weirdest worst mangled non-word ever but you get the point]
… a griever
… the sad one
… the "I can barely get off the couch today" one
An abuse survivor.
But these things are all true. Even though I didn't realize it.
And now I'm living in this reality:
"I need you."
"I'm not even gonna try to fix this, I'm only here to cry with you. I might wipe your tears and hold your hand and bring you a Coke from Quik Trip with crushed ice just the way you like it, but that's the best I have to offer you."
"I am fragile and easily triggered and I'm sorry not sorry."
"I don't have time for stuff that doesn't matter."
Because the denial of "I got this" and all that other stuff up there is shattered.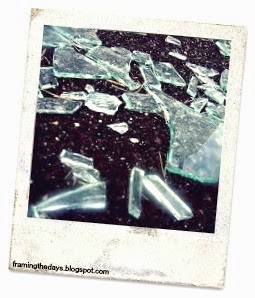 And once it's shattered, there's no getting it back.


And I can't be who I was anymore. More correctly, who I thought I was. When I was living in denial. For the longest time I've been waiting to "get over" this … whatever this is. And get back to myself. But she's gone. For good, and I do mean it's good, even though it's also terribly hard.


And I don't know who I am becoming, but I do know that God is the one doing the becoming, and I am safe in His hands. And His grace and mercy sing the broken into beautiful.


Becoming,
Angie
Please follow and like us: