Mason and Gypsy, this morning.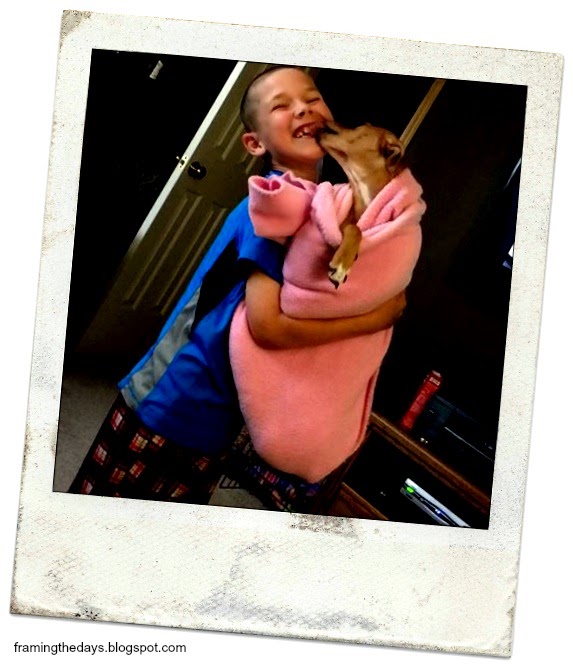 It was hilarious, watching them. Over and over Mason tried to wrap Gypsy up in that pink blanket, and over and over Gypsy wriggled free. He tried everything, from begging her, to using his "stern" voice, to bribing her with treats, to sneaking up on her and grabbing her from behind.
Every time she broke free.
He is nothing if not persistent, though, and as we watched, she began inching closer, and closer, and closer. To that boy, and that pink blanket. Until she laid down, just at the edge. But the moment he reached for her, she was gone.
Then she laid down, all the way, on the blanket. He lunged, she bailed.
She laid down again. And he moved in softly, gently, and she stayed. Until he started trying to wrap her up in the blanket. She bailed. But she didn't move quite so far or run quite so fast this time.
And so on. It was an elaborate dance, with moves and countermoves, and patience piled upon patience. Eventually he would succeed multiple times in getting her wrapped up, only to have her jump free the minute he moved. And the dance went on.
Eventually, though, I watched with amazement as Gypsy not only laid down on the blanket, but she rolled over on her back and LET HIM WRAP HER UP.
And held still, while he picked her up.
And began licking his face, as he stood there holding her ridiculously bundled up in that pink blanket.
And there was DELIGHT. His, and hers. Mutual.
It made me think about how persistent, and patient, and gentle, and careful God is with us.
And how we are wary, and fearful, and afraid of being wrapped up, claustrophobic, even?
And how He won't force the blanket on us, or the wrapping up.
But that when we choose it, we feel safe, and we know we are loved, and we love right back.
And there is DELIGHT. All around.
"The Lord your God is with you, the Mighty Warrior who saves. He will take GREAT DELIGHT in you; in his love he will no longer rebuke you, but will rejoice over you with singing." (Zephaniah 3:17)
Just imagine. THE Mighty Warrior, taking delight in you,loving you rejoicing in you, singing over you. Can you hear it?
It's beautiful.
Delighted,
Angie
Please follow and like us: